:: Metro
Team GB has won a record number of medals at an overseas Olympics in Rio.
:: The Sun
Great Britain finished second in the medals table behind China.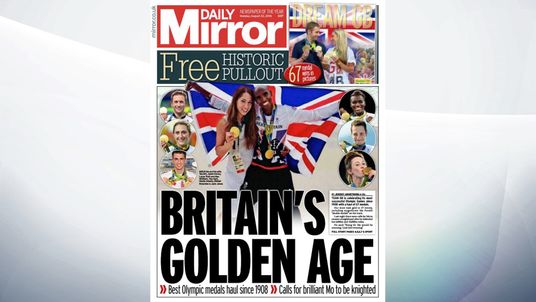 :: Daily Mail
It's Team GB's best performance in over a century.
:: i
Great Britain now ranks among the world's sporting superpowers.
:: Daily Mirror
Team GB's Rio performance marks a golden age for British sport.
:: Daily Star
Mo Farah is odds-on to be knighted after pulling off a "double double" in Rio.
:: Financial Times
Infrastructure spending has declined sharply since Britain voted to leave the EU.
:: The Guardian
New research reveals women and people from ethnic minorities are badly unrepresented in senior positions in the NHS.
:: The Times
The number of middle-class teenagers suffering from anxiety or depression has surged in the last decade, with more than a third now experiencing symptoms of "psychological distress".
:: The Daily Telegraph
The SNP says Brexit is threatening the future of Scotland's seafood industry, which accounts for more than 60% of the nation's food exports.
:: Daily Express
Britain can thrive outside the European Union, it is claimed.
:: Watch the Press Preview every evening on Sky News at 10.30pm and 11.30pm. Monday night's reviewers will be the Daily Mirror's Associate Editor Kevin Maguire and journalist and writer Roya Nikkah.